An information site for British Migrants to Australia, providing information since October 2005. Post Content follows this advert.
The AUD to the GBP after Brexit.
The British pound dropped to just 1.83 AUD for every Pound immediately after the exit vote was confirmed.
However, the rate has risen slightly to 1.85 AUD to the GBP shortly after the result.
The value of the British Pound in the 10 days before BREXIT
1.91411 AUD Wednesday 15/06/2016
1.92871 AUD Thursday 16/06/2016
1.94199 AUD Friday 17/06/2016
1.94199 AUD Saturday 18/06/2016
1.96509 AUD Sunday 19/06/2016
1.96700 AUD Monday 20/06/2016
1.96729 AUD Tuesday 21/06/2016
1.96762 AUD Wednesday 22/06/2016
1.93995 AUD Thursday 23/06/2016
1.84789 AUD Friday 24/06/2016
Short History of the GBP-AUD
2016
Jan 2016 Lowest 2.013873. Highest 2.087328
Feb 2016 Lowest 1.937658. Highest 2.063378
Mar 2016 Lowest 1.870634. Highest 1.953213
Apr 2016 Lowest 1.836350. Highest 1.921265
May 2016 Lowest 1.920177. Highest 2.038477
Jun 2016 Lowest 1.830000.  Highest 2.006336
2015
Lowest 1.839786 in Jan 2015. Highest 2.205411 in Sep 2015
2014
Lowest 1.728672 in Sep 2014. Highest 1.918334 in Jan 2014
2001
Lowest 2.615025 in Jun 2001. Highest 3.034914 in Sep 2001
1985
Lowest 1.362912 in Jan 1985. Highest 2.216866 in Dec 1985
2011 to BREXIT FX rates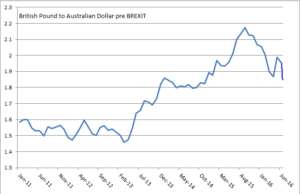 ---
---