Cadbury Dairy Milk Vegemite Block
Cadbury Diary Milk with VEGEMITE block contains Dairy Milk milk chocolate with smooth flowing caramel and VEGEMITE.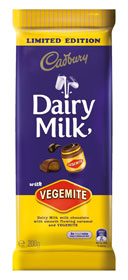 My first thought was: Was it April the 1st ???
The Guardian had this in their page on the subject…
Once the chocolate has evaporated off the tongue and down the throat, a curious taste remains. It doesn't resemble the beautiful, tangy, salty gloriousness of Vegemite spread on hot-buttered toast, instead it tastes like licking a plate where Vegemite was smeared, many months ago, then left in the sink to fester.  www.theguardian.com
In their readers comments it varied from:
it was more revolting than I'd expected..
to:
I think it's a great combo..