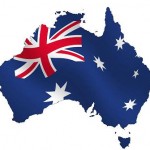 1994 was the first year that all Australian states began to celebrate Australia Day consistently as a public holiday on this date of January 26th.
However, it was back in 1788 that Captain Arthur Phillip, the commander of the First Fleet of the eleven convict ships from Great Britain, and the first governor of New South Wales, arrived at Sydney Cove.
It was 18 years earlier though, in 1770, when the country was claimed by Captain James Cook on 22 August, following his landing and the subsequent British occupation of the eastern half of the continent.
The first holiday was declared in 1818, when Governor Lachlan Macquarie, made the thirtieth anniversary of the day a public holiday in New South Wales.
Australian of the Year Awards 2012
Australian of the Year 2012 – Geoffrey Rush (VIC)
Senior Australian of the Year 2012 – Laurie Baymarrwangga (NT)
Young Australian of the Year 2012 – Marita Cheng (VIC)
Australia's Local Hero 2012 – Lynne Sawyers (NSW)
Geoffrey Rush, born in Toowoomba, Queensland in 1951, has now celebrated 40 years as an Australian actor, achieving the rare international distinction of the 'Triple Crown' – an Oscar, a Tony and an Emmy.
He also has three Australian Film Institute honours, three British Academy Awards, two Golden Globes, four Screen Actors' Guild Awards, and last year was inducted into the ranks of Australia's elite with a Helpmann Award.
More at: www.australianoftheyear.org.au