The UK FTSE 250 Index rises faster after Brexit than before.
The FTSE 250 Index has risen from
16,986 on 12 Oct 2015
up to
17,978 on 10 Oct 2016
This shows a rise of 5.84% in the last year
There were dips during this time, including a drop to 14,967 on 27 Jun 2016, but a recovery of over 20% in the 4 months from Brexit to October 2016, gives a net rise of that 5.84% during the year overall.
The FTSE 250 Index shows the weighted average of the 101st to the 350th largest companies listed on the London Stock Exchange.
The FTSE 100 appears very similar too. (The weighted average of the Largest 100 companies listed on the London Stock Exchange.)
The FTSE 100 showed a jump from:
5,982 on 27 Jun 2016
to
7,097 on 10 Oct 2016
It was 6,371 on 12 Oct 2015. This shows a rise over the year of 11.4%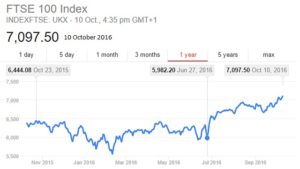 Source: