Quorn, the brand name of a range of meat and soy free food, is now available in Australia.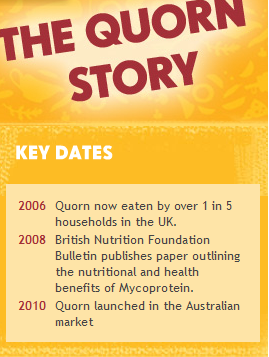 Expected Availability:
Woolworths and Coles
Quorn Lasagne 300g
Quorn Cottage Pie 300g
Quorn Sausages 300g
Quorn Mince 300g
Coles Only
Quorn Schnitzels Cheese and Spinach 240g
Quorn Dippers 280g (14 dippers)
Quorn Pieces 300g
Quorn Pasties 300g (2 pasties)
Quorn Sausage Rolls 300g (6 sausage rolls)
Quorn Southern Style Burgers 250g (4 burgers)
Quorn Strips 300g
If you need Quorn in Australia, then I suppose you know what it is, and I need say no more about it …
But if you don't, then here is the link to see what it is all about…
Some statements from the Quorn website:
Quorn products do not contain genetically modified ingredients.
Quorn foods are made with Mycoprotein, from a nutritious member of the fungi family

Mycoprotein is the common ingredient in all Quorn products. It's made from a member of the fungi family (the same family that morels and truffles belong to) and is a high-quality meat-free protein that's low in fat, high in dietary fibre (important for your digestive system) and is a valuable source of amino acids.

Our expert chefs really know how to get the best out of mycoprotein, allowing them to create our range of ready meals, sausages and burgers as well as cooking ingredients like mince, strips and pieces.