Renewing a UK Passport online
Update 23rd OCTOBER 2018
With thanks to: Janet Davis, who posted this:
There is a new trial on-line system, which I just tried and it worked well. The steps are:
1. Take a photo and upload it. The system automatically crops it and asks you if it's acceptable. If you don't like the photo it lets you do it again.
2. Complete the form online and pay the fee.
3. Post your old passport to the Passport Office. (I suggest express international post)
My new passport was sent to me within six working days including the time to send the old passport by express post.
— OLDER —-
Renewing a British Passport online from Australia should take about 4 weeks from when it's received by Her Majesty's Passport Office in the UK., but it can take longer if more information is needed or your application hasn't been filled out correctly. HM Passport Office have advised that the standard passport processing times are about four weeks for renewals, six for new passports or replacements for lost and stolen ones.
Apply at: www.gov.uk
You will need a debit or credit card to use the Online service.
The standard price of an adult passport renewal is £72.50 or £46 for a Child Passport, but you will pay a different fee if you apply for a passport from another country
The following is the quoted price for renewing a UK passport while in Australia.
Cost of UK Passport Renewal with the courier fee of £19.86 included
£105.86 Adult standard 32-page passport (2018)
£115.86 Adult jumbo 48-page passport (2018)
You must apply and pay for your passport online.
Before you start you will need:
your current passport
2 identical new photos of you (or your child, if it's a child passport application)
any other current passports issued by other countries
a MasterCard, Visa, Visa Electron, Visa Debit or Maestro (UK Domestic) card. (Maestro International cards aren't accepted)
Your application should take 4 weeks from when it's received by Her Majesty's Passport Office in the UK.
You will need to print, sign and post your declaration form at the end.
After Printing the Application, you can get Australia Post to assist in checking, and sending the documents to the UK passport office (auspost.com.au/…/british-passports)
---
I have not done this myself, but feel that the wording; ONLINE, is not that accurate.  We seem to have to fill in the form online, then print it out, sign it and finally post it.
---
One question in the Application relates to the Issuing Authority of the Passport.
Most British people will tick the first option (UKPA, UKPS, IPS or HMPO) but some, maybe Hong Kong and Gibraltar passports etc, will need to tick "Other".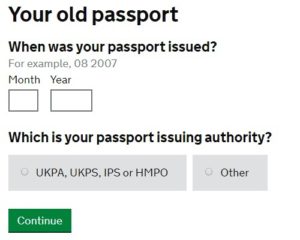 HMPO is the HM Passport Office, and is the sole issuer of UK passports.
IPS was the Identity and Passport Service from 2006 to 2013. (The Identity and Passport Service was renamed HM Passport Office on 13 May 2013)
UKPS was the United Kingdom Passport Service (A previous name before HM Passport Office)
UKPA was the UK Passport Agency (A previous name before HM Passport Office)
Originally Published on: 1 Sep 2017