In ALDI for the week beginning 26th October 2011, for the sum of A$3.69, is the 410g jar of Robertsons Fruit Mince.
Ideal for home made Mince Pies in time for Christmas.
Tesco in the UK have one for £1.28 for the 411 gram jar, I do not know if it is different or not, and until I see it in ALDI, I can't even be certain it is UK made.
I can say that it is available in both Woolworths and Coles, but for $4.28 and $4.38 respectively.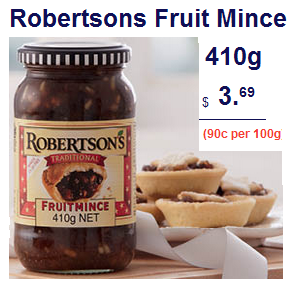 I wonder how the people who never buy at ALDI because the products are cheaper, and therefore not as good, justify this one 😉