An information site for British Migrants to Australia, providing information since October 2005. Post Content follows this advert.
Hayfever & Anti-Histamines Medicine in Australia
Claratyne and Zyrtec are the two most common Hayfever Medicines in Australia, and both come in varying pack sizes.
Claratyne Prices in July 2016
The following Claratyne Prices give an idea of the cost of this particular brand from one of the larger Australian Chains of Chemists, ePharmacy.
Claratyne Non-Drowsy Tablets 75. Pack Price $29.99 = $0.40 per 10mg Loratadine content
Claratyne RediTabs 30 Tablets. Pack Price $23.00 = $0.77 per 10mg Loratadine content
Claratyne Childrens Chewable 30. Pack Price $25.99 = $0.87 per 10mg Loratadine content
Claratyne Non-Drowsy Tablets 30. Pack Price $26.69 = $0.89 per 10mg Loratadine content
Claratyne Syrup Peach Flavour 150mL. Pack Price $15.99 = $1.07 per 10mg Loratadine content
Claratyne 10mg 24 Liquid Capsules. Pack Price $25.99 = $1.08 per 10mg Loratadine content
Claratyne Children's Chewable 10 Tablets. Pack Price $10.99 = $1.1 per 10mg Loratadine content
Claratyne Non-Drowsy Tablets 10. Pack Price $10.99 = $1.10 per 10mg Loratadine content
Claratyne Syrup 120ml Grape. Pack Price $13.99 = $1.17 per 10mg Loratadine content
Claratyne Syrup Peach Flavour 60mL. Pack Price $9.39 = $1.57 per 10mg Loratadine content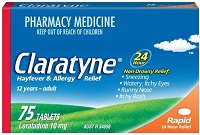 Zyrtec Prices in July 2016
Zyrtec 10mg 70 Tablets. Pack Price $39.95 = $0.57 per tablet/capsule
Zyrtec 10mg 30 Tablets. Pack Price $22.99 = $0.77 per tablet/capsule
Zyrtec Liquid Capsules 42. Pack Price $37.99 = $0.90 per tablet/capsule
Zyrtec 10mg 10 Tablets. Pack Price $10.99 = $1.10 per tablet/capsule
Zyrtec Liquid Capsules 14. Pack Price $17.99 = $1.29 per tablet/capsule
Zyrtec Eye Drops 4ml. Pack Price $ $12.99
Zyrtec Kids Oral Drops 20ml. Pack Price $ $17.99
Zyrtec Kids Oral Liquid 200mL. Pack Price $ $17.99
Zyrtec Kids Oral Liquid 75mL. Pack Price $ $10.99
Zyrtec Nasal Spray 10mL. Pack Price $ $12.99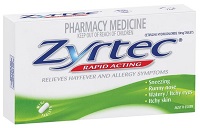 ---
---