Newspaper reports today (30 May 2010) show the following:
THE average house in Sydney is more expensive than the average home in London and New York, according to a comparison of real estate prices in the biggest cities around the world.
Residex figures show the median cost of a Sydney house is $651,500 – almost $190,000 ahead of London, where the median price for a two- to three-bedroom house is $462,000.
So, what can you get for about $651,000 in Sydney ?
I found this one for $679,000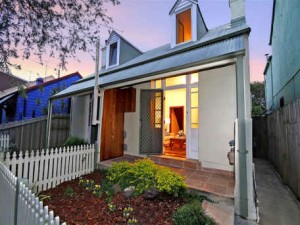 Margaret Street, Stanmore, NSW 2048
2 Bedroom, 1 bathroom semi detached house
Distance to Sydney CBD: 5.8km Time: 10min (approx)
www.realestate.com.au/property-duplex+semi+detached-nsw-stanmore-106504093
Now to compare a similar house at a similar distance from Central London CBD.
This one for £269,950 (or A$460,000)
Grovelands Close, Camberwell
3 bedroom, 1 bathroom, Semi detached house
Total Distance to London CBD: 4.14 mile(s), 6.66 km(s)
www.zoopla.co.uk/for-sale/details/1992063
Now to compare these to the wages…
$679,000 is about 9.7 times the average Male Full time wage of $70,038
£269,950 is about 9.8 times the average Male Full time wage of £27,552